A Summary of Research Cautions Against HA and Steroids
So Many Options for Osteoarthritis Sufferers
The prevalence of doctor-diagnosed arthritis is expected to increase in the coming decades. By the year 2040, an estimated 78.4 million adults aged 18 years and older (25.9% of the projected total adult population) will have doctor-diagnosed arthritis [1].
Because so much of the US has or will have osteoarthritis, there are a few too many treatment options. This blog examines what research says about non-surgical solutions to osteoarthritis, specifically PRP and so-called "therapeutic injections" of Corticosteroids and Hyaluronic Acid (HA).
Importance of Randomized Controlled Trials (RCTs)
In clinical research, randomized controlled trials (RCTs) are the best way to study the safety and efficacy of new treatments. RCTs are required by governmental regulatory bodies as the basis for approval decisions. Multiple RCTs are cited in this blog.
The Case for Regenexx Platelet Rich Plasma (PRP) Procedures
PRP and Platelet Lysate are the names of procedures using healing growth factors from your own blood that promote your body's natural ability to repair itself. The use of PRP to treat joint, tendon, ligament, and muscle injuries is becoming well known, thanks to exposure from professional athletes. Platelet injections have a stimulating effect on the repair cells within the targeted area, making those cells work harder to perform their natural job of healing the body.
Regenexx PRP procedures are performed with high-level imaging guidance to ensure the most accurate placements of cells into the desired area.
PRP Vs. Corticosteroids
Often referred to as steroids, corticosteroids are a type of anti-inflammatory drug [2].
A recent RCT showed PRP superior to corticosteroids in patients with a partial tear of their rotator cuff. The study was conducted with 32 patients, randomly assigned into two groups. One group would receive PRP injections, while the other would receive corticosteroid injections [3].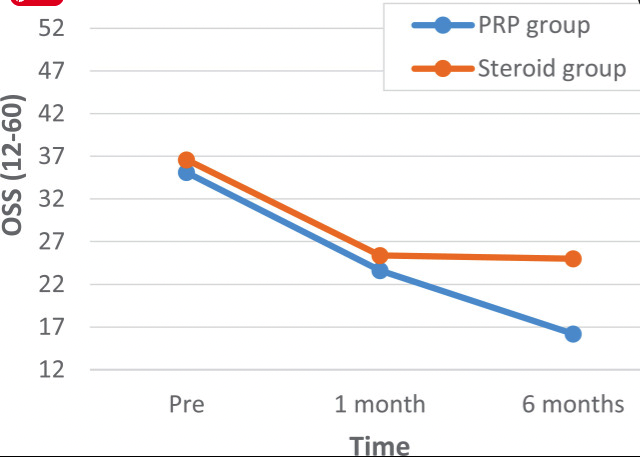 An injection using either a corticosteroid or LP-PRP resulted in a similar reduction in pain and improvement in function at 1 month in patients with a partial rotator cuff tear. However, PRP showed superior pain reduction benefits over the corticosteroid at 6-month follow-up (as presumably the effects of the steroid injection begin to wear off. Regenexx research shows that PRP patients continue to improve in pain reduction over more than one year.
Corticosteroids Shown to Accelerate Onset of Osteoarthritis
In a study published in the Journal Radiology and reported on CNN, researchers observed that Cortisone shots accelerate patients' osteoarthritis progression, and can bring on subchondral insufficiency fracture, osteonecrosis, and rapid joint destruction with bone loss [4].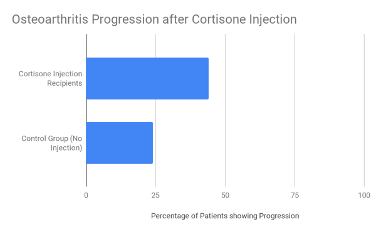 PRP Vs. Hyaluronic Acid (HA Gel Injections)
Naturally occurring in your body, HA is a sort of lubricant. It is already present in joints and other parts of your body, where it works to keep things moving smoothly.
There are several types of hyaluronic acid injections, also called viscosupplementation, that are used for joint osteoarthritis. They are made from either rooster or chicken combs, or are derived from bacteria, and are injected directly into the joint. It may take more than one injection for the pain to go away. Some studies have shown that HA injections can reduce pain for up to six months, but others have shown more limited results, with 30 to 40 percent of those receiving the injections showing no improvement [5].
Want More Evidence for PRP?
A meta-analysis (or compilation of many RCTs) collected data from 30 RCTs (3,463 patients). In conclusion, the meta-analysis found that injections of PRP demonstrated the best overall outcome compared to steroids, hyaluronic acid and placebo for patients with knee osteoarthrosis at 3, 6 and 12-months follow-up [6].
With regard to use of HA, there is growing evidence that HA combined/used together with PRP may produce better results than PRP injections alone. But, that's the subject for another blog.
Why Regenexx for PRP?
After seeing this RCT evidence, and before you accept a corticosteroid injection for the first or second time, or before you accept a solo injection of HA, consider using your body's own live regenerative cells to repair muscle injuries and alleviate joint pain for the long term.
Orthobiogen is Oklahoma's only Regenexx clinic. Regenexx Procedures provide non-surgical treatment options for those suffering from pain related osteoarthritis, joint injuries, spine pain, overuse conditions, and common sports injuries. Regenexx procedures have helped thousands of patients improve their quality of life, return to the activities they enjoy, and avoid the need for surgery or joint replacement.
The Regenexx Database has Tens of Thousands of Patient Results
Regenexx maintains an active patient registry that tracks patients' progress or side effects, post-procedure. Our outcomes database contains records on tens of thousands of Regenexx PRP procedures performed by physicians in our network.
Tap here to see the number of currently tracked procedures as well as patient-reported results, for spine pain and for each major joint–knee, shoulder and more.