Question: Shoulder Pain, or Neck Pain in Disguise?
Answer: See a Doctor that Specializes in Both.
Because the neck and shoulder share the same densely packed nerve pathways, a neck or nerve injury can feel like shoulder pain to a patient. So, whether you start with your PCP for a referral or not, you need to insist that you see a doctor that specializes in both shoulder and neck injuries, and also consider a spine and shoulder doctor who specializes in less invasive non-surgical procedure options.
Shoulder Injuries
A complex ball-and-socket joint, the shoulder has the possibility of being injured in multiple ways. Fluid-filled bursa sacs or tendons can become inflamed, tendons can tear, possibly causing issues with the shoulder's rotator cuff, and the bones connected to the joint can break (1). Most often though, shoulder pain is caused by an injury to the rotator cuff, a group of tendons and muscles that stabilize the joint. The rotator cuff develops wear and tear with age, and can be easily injured (2).
How Can Shoulder Pain Actually be Neck Pain?
When injury occurs, the brain can't always trace pain pathways back to their source, and what we feel may not be what is really going on. Pain in the shoulder may actually come from a neck injury. In these cases, the cause for neck pain is likely nerve damage, since the pain sort of "travels" to a location different from the source (3).
Anatomy of Cervical Spine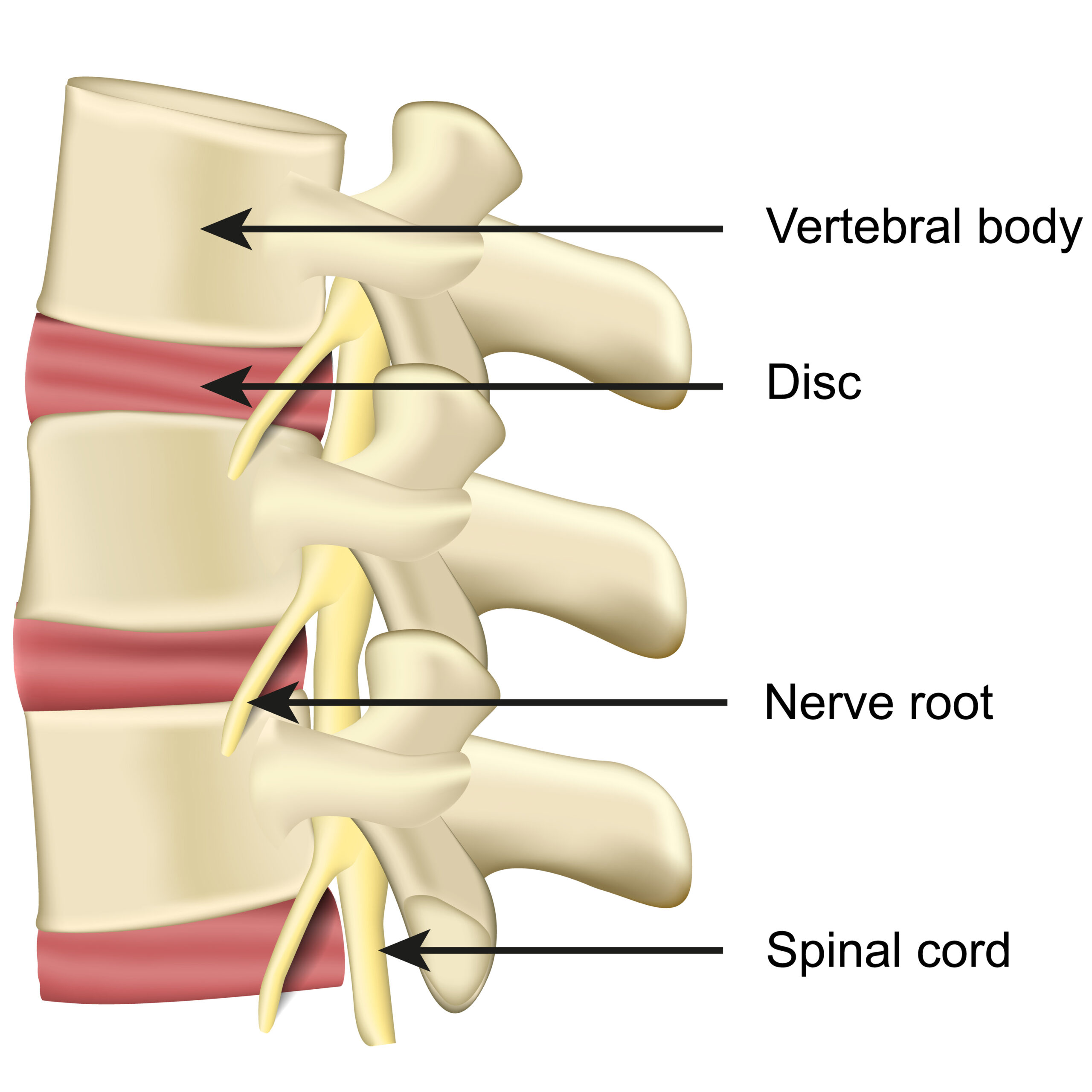 The cervical spine is the uppermost part of the spine, essentially the 'neck.' The cervical spine is comprised of bony vertebrae C1-C8 (topmost bone to the eighth one down).  Vertibrae C3-C8 all contain nerves that pass through to the shoulder (3). The purpose of the bony vertebrae and the vertebral discs is to protect the spinal cord and the nerve roots, but it is possible for a nerve root to become compressed or pinched (3). Should this happen to a nerve root in a patient's cervical spine, it is possible for the patient to feel pain in their shoulder, even running down the arm all the way to the hand – this type of pain is called cervical radiculopathy (3).
When the Shoulder is Likely the Cause of Pain
You may have a rotator cuff injury or other shoulder problem if pain:
Develops in the shoulder itself or on the outside of your upper arm.
Is dull and aching.
Occurs when you reach overhead or behind your back, or when lifting.
Radiates into the upper arm, but not past the elbow.
Persists at night.
Improves when you rest your arm (2).
When the Neck is Likely the Cause of Pain
You may have arthritis or nerve-related neck pain if pain:
Radiates to your shoulder blade, or close to or on the side of your neck.
Electric-like, stabbing, burning or tingling.
Radiates down past your elbow or even into your hand.
Persists at rest.
Radiates down your arm when you extend or twist your neck.
Is relieved when you support your neck (2).
If neck pain is caused by a pinched nerve or cervical radiculopathy, symptoms may include sharp, severe pain, pain that radiates down the arm, pain that comes and goes, or is constant, weakness or numbness in the arm, and/or a tingling or "pins and needles" feeling in the arm (3, 4). Since any individual nerve root could be pinched or irritated, cervical radicular pain can occur anywhere in the shoulder and arm, but usually happens only on one side of the body (3).
More on Neck and Shoulder Pain and When to See a Doctor
The above sets of symptoms can be confusing to patients. Shoulder pain could simply be age-related arthritis. However, nerve damage is already a serious issue, and if left untreated, could worsen. Symptoms like traveling pain and the "pins and needles" feeling are alarming symptoms. If these symptoms persist, or if the shoulder can barely be moved, it is important to see a non-surgical doctor who specializes in neck and shoulder pain as soon as possible (3).
More on Making the Right Doctor Choice
We believe we have made the case for patients to choose a doctor who specializes in both neck/spine and shoulder areas. A patient must further consider whether to see an orthopedic surgeon or a doctor who specializes in non-surgical treatment of musculoskeletal conditions.
Both doctors may offer the same first options–such as anti inflammatory medications (ibuprofen) and physical therapy. If those nonoperative options fail or not warranted, a traditional orthopedic surgeon may recommend cortisone injections and then when out of other options, surgery. In a study published in the Journal Radiology and reported on CNN, researchers observed that Cortisone shots accelerate patients' osteoarthritis progression actually doing more harm than good (see our recent blog for more details).
There are many uncertainties and complications with orthopedic surgery, and there's typically a long recovery time. Orthopedic surgeons are not trying to lead you astray, but rather to utilize their specialty to help you. Surgery is sometimes the best option. But, you may want to consider non-surgical orthopedic options, particularly if those options involve the most advanced regenerative procedures in the world.
Regenexx Treatments – PRP for Cervical Spine; BMC for Shoulder Joint
In the case that shoulder pain comes from a shoulder injury only, for example, a rotator cuff tear, a bone marrow concentrate procedure may be a good non-invasive treatment option. In a Regenexx-SD procedure, Orthobiogen specialists would extract bone marrow from the patient's own body, concentrate the cells in their own state-of-the-art lab, and then inject the regenerative stem cells from the source back into the patient's affected area (5). A recent Mayo Clinic study has shown this treatment method to be quite effective, considering that there was a reduction in the rate of rotator cuff re-tears by 3x for patients who received bone marrow concentrate injections (6).
In the event of shoulder pain caused by cervical radiculopathy, platelet-rich plasma treatments are another option. This treatment harvests platelets from a patient's blood, impurities in our own sophisticated lab, and re-injects that solution back into the patient's body (7). Those "healing growth factors" in the concentrated solution speed up the body's natural healing process (7). This type of treatment is useful for nerve damage, making it a good contender for patients affected by radicular pain.
See Our Patient Outcomes Database
Regenexx maintains an active patient registry that tracks patients' progress or side effects, post-procedure. More than 3,200 cervical spine patients are being tracked in the Regenexx Patient Outcome Directory.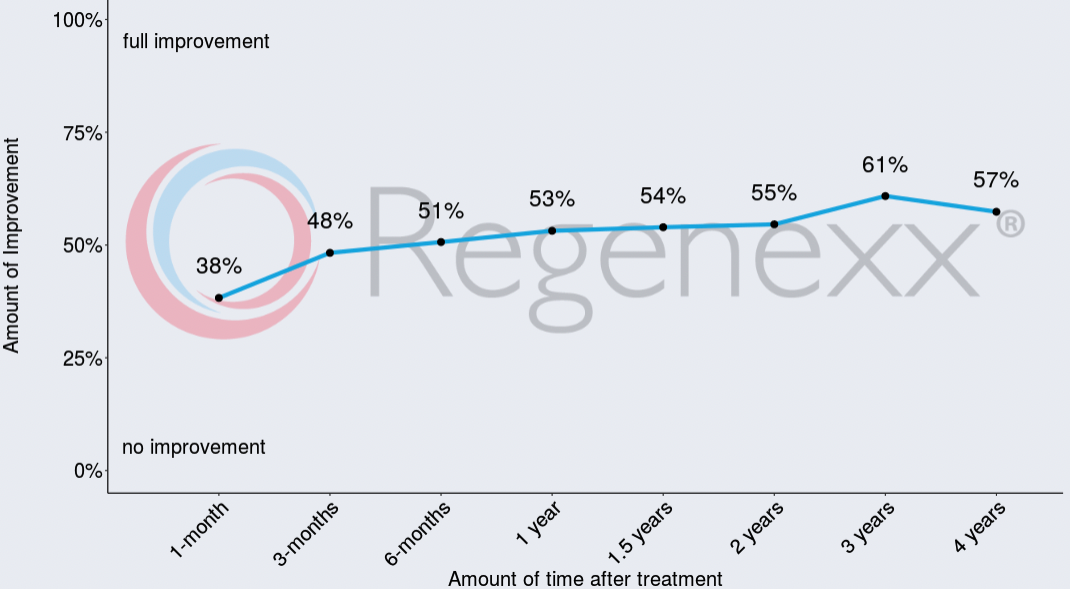 In the above chart, cervical spine/neck patients  feel their joints are, on average, already 38% better after only 1-month, and continue to improve for the next three years.
You can see how much regained function, reduction of pain and overall improvement patients of Regenexx procedures reported here.
Don't wait on shoulder pain. Find out if you're a candidate for Orthobiogen's Regenexx procedures.